I adore cinnamon! There's just something about the way it can make almost anything from cookies to oatmeal taste, smell and look better. I also associate it with autumn, my ultimate favorite season. The earthiness of cinnamon simply embodies the cool, calm comfort of fall days and it inspired to bake the ultimate cinnamon cookie: the snickerdoodle! In retrospect, part of the reason I baked snickerdoodles was that "snickerdoodle" is such a fun word to say. Haha!

Anyhoo, the snickerdoodle is a simple sugar cookie that has been coated with cinnamon sugar. It normally has a crackly appearance and variations include the use of nutmeg, raisins, or nuts. The recipe for snickerdoodles is also rather unusual for cookies because it uses a leavening agent, usually cream of tartar, which is not used in the average cookie. Another reason I decided to make these is that I've never had a snickerdoodle before! I thought a batch of these cookies would be a great autumnal treat for another autumnal rite of passage: the Halloween party (which will be a different post altogether).

As with any cookie recipe, this starts with the creaming of the fat (shortening, in this case) with the sugar, before the sifted dry ingredients (flour, baking soda, cream of tartar and salt) are stirred in until just mixed. One of the things one should never EVER do with cookie dough is to overmix it. This usually results in frustratingly tough cookies instead of the desired chewy yet slightly crisp texture that I personally love. The dough is the rolled into walnut-sized spheres before they're dipped into the sugar/cinnamon mixture before they're baked.

The cookies were delicious, crumbly and simply melted in my mouth when eaten fresh. I brought the rest of the cookies to a friend's Halloween party the next day. Although they weren't as good the next day, they were still delicious and the flavor wasn't lacking at all. So try out a snickerdoodle (if you haven't already) for the perfect fall treat with a tall glass of ice cold milk!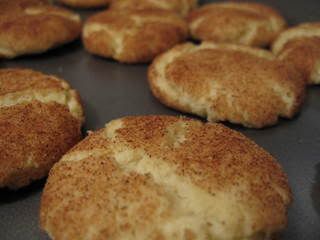 Recipe for Snickerdoodles

Ingredients:
1 cup trans fat-free shorteneing
1 1/2 cup white sugar
2 eggs, lightly beaten
2 3/4 cups AP flour (can substitute some with whole-wheat)
1 teasp. baking soda
2 teasps. cream of tartar
1/2 teasp. salt
2 Tbsp. white sugar
2 teasps. ground cinnamon

Preheat oven to 375 deg. F.

Cream the shortening with 1 1/2 cup sugar until smooth. Stir in the eggs.

Sift together the flour, baking soda, cream of tartar and salt. Stir the flour mixture into the creamed shortening/sugar mixture.

Stir together the 2 Tbsp. sugar and cinammon in small bowl.

Roll cookie dough into walnut-sized balls before rolling it in the cinnamon sugar mixture. Place the sugared cookie dough on a baking sheet, about 2 inches apart.

Bake 8-10 minutes or until edges are browned. Do not overbake unless you like snappy cookies.

Enjoy!